Stanmer Park
Stanmer Park is a large open park to the west of this cache. The village of Stanmer, Stanmer House and Stanmer Church are within the park, which would once have been the estate of the house. The park used to be part of the same site as the university, until is was sold the the council with the understanding that the west valley would be kept as a nature reserve and the east would be used for education.

Observatory
The nearby stone structure used to be an observatory. At the time of construction, there was less light pollution so it was easier to see the stars. The University now owns an observatory on the Ashdown Forest in Chelwood Gate.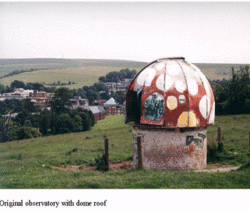 (Photo credit: University of Sussex)
The walk and caches
This walk is about 2.5 miles (4 km) with 11 traditional caches. There are also some other caches on route and nearby. The route will take you on a walk around the South Downs National Park on the border of the University. The terrain is varied with some steep climbs, uneven surfaces, and gates.
A wide variety of wildlife can be found on the walk including deer, birds of prey, badgers, rabbits, and plenty of other birds.
More information about the route can be found on the boundary walk leaflet.
The description for each geocache contains some information about what can be seen from the cache and the surrounding area.
Getting here
There is plenty of parking on the campus. This costs £2.50 for two hours. Charges apply Monday to Friday, 9:00 to 18:00. Parking is free outside these times. The car parks are usually full on weekdays, so please try to visit on the weekend. If you do visit on a weekday, car park 9 is usually the emptiest. Avoid parking here on football match days, as some/most of the car parks are reserved for the home fans.
There is also free parking at Stanmer Park.
Maps of parking and public transport: New style map | Old style map
You must be logged-in to see additional hints