The cache is not at the published coordinates, which mark the tee for Hole #17 of the course at Kingsdown Golf Club, one of the few holes there that I imagine a player might be able to sink a hole-in-one.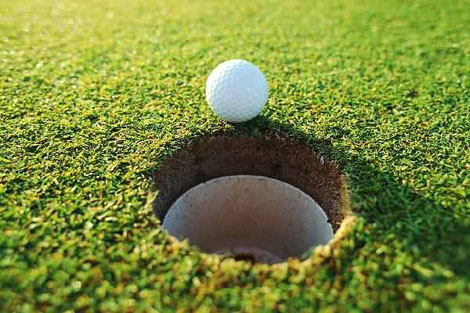 There are many caving Holes. Here are just a few that aren't so far away: Denny has one, Lionel has one, there's even one named after a Drunkard. Now I should like to name one more cave using this label: Piddypug's Hole.
This is only a little cave, yet I am aware of others this small that are still named and documented. To the best of my knowledge, this cave is not documented. Its entrance has been home to one of my caches (GC2AX23 Playing Around in Kingsdown) for a couple of years now; indeed, cachers piddypug and billiethecat were searching for this cache when piddypug overshot, thinking me more evil than I really am (this cache was set before my full conversion to the dark side), and discovered a further way on. It doesn't go too far before becoming impossibly narrow, but there is definitely more to explore than I had initially realised.
To recognise this excellent little find, I have created another GeoGolfing Bonus, and named it after the pioneer who led the way. This time it is exclusively available to opencache.uk cachers; this truly is now the Kingsdown Open GeoGolf Championship!
The instructions are simple. There are no hidden puzzles. Just find the final stage of GC2AX23 Playing Around in Kingsdown, if you haven't already, and keep going. It is rather tight, and, as ever, be very careful of any loose rocks. Follow the only route available to you, and you should find piddypug's prize. This cache inherits its difficulty rating directly from GC2AX23 (and so is even easier if you happen to have found that one already!); terrain-wise, it is comparable to Aladdin's Cave, perhaps a little shorter.
Regarding equipment and clothing, if tackling GC2AX23 first, you will already have read that you should wear clothes that you don't mind getting a bit grubby. They will get even grubbier down Piddypug's Hole, but it is not appropriate to wear overalls/full caving gear for the majority of your qualifying round at the Kingsdown Open - you would alarm both the conventional golfers in their plus-fours and the residents who are fortunate enough to live around this lovely area. I would recommend wearing machine-washable clothes, and taking along a helmet and headtorch in your GeoGolfing bag for the final hole. You should also not attempt Piddypug's Hole alone, for safety reasons, and let someone know where you are, just in case you get trapped in the tight bits.
Course notes
Tee off straight ahead from GC2AX23, negotiating narrow fairway; take righthand dog-leg into spacious bunker; at its end, a lefthand dog-leg drops down through a short narrow fairway onto the small green; the pin is in plain view on your right; please replace all divots leaving everything as you found it.
---
Residential Geocoin (August 2016)
Amberel kindly made one of his Top Cache geocoins for the combination of this cache and its neighbouring geocaching.com cache Playing Around in Kingsdown. It is called Playing Around in Piddypug's Hole. I have chosen to hide it as a RESIDENTIAL geocoin, alongside the logbook of Piddypug's Hole (In One). Feel free to discover it, but please do not remove it, and please note the extra few metres between the two caches are quite challenging. Thanks.