Royal George Cave is a small landslip cave that has been enlarged a little by the extraction of stone.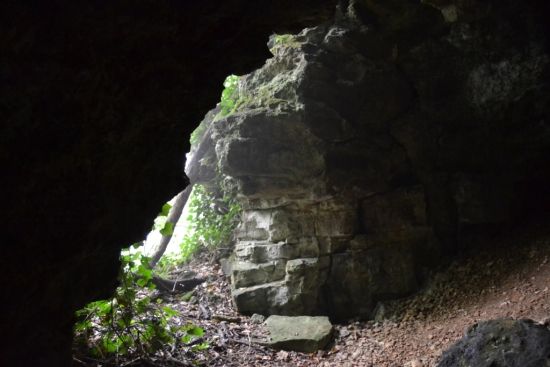 *looking out
 
The posted coordinates are not for the cache itself, but are for an eating and drinking establishment of the same name. Turn right out of the car park entrance and follow the B4070 first west, then north as it becomes Ermin Way and turns a sharp bend and starts to head downhill. The road can be busy, and there is no proper foot path here, just a little bit of a grass verge on the outer side of the bend you can walk on, so please take care.

After about a 140m just around the bend you will see a speed limit sign. Here you need to cross quickly and carefully, and then climb the steep wooded bank to a flat terrace and small rockface that cannot be seen from the road.

Enter the large and obvious cave entrance. A roomy passage to the right can be followed for about 10m, which ends just after a man-made stone pillar. The cave has a couple of short very tight squeeze passages that lead from it, but they are difficult to access unless you are very thin / are prepared to excavate a little.

The cache can be found at the end of the one easy crawl passage, west off of the main passage.
 
You'll require a torch. Old clothes and a hard hat always advised for these kinds of places. It's possible you'll see an occasional bat, please do not disturb if you do. Warning for arachnophobes,  you will see spiders and moths.. a lot of them.